2017 was yet another busy year in our support of local community events and we are delighted to have been a part of their success.
Fonthill Dog Show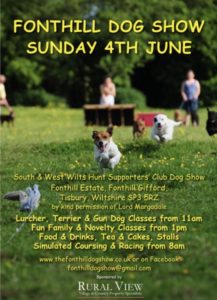 In June we were principle sponsors of the South West Wilts Hunt Supporters Dog Show, a very well attended event on the Fonthill Estate where very serious classes mix with fun. There were a lot of beautiful and handsome dogs and some very proud canine owners left the competition happy. For more information visit: http://www.thefonthilldogshow.co.uk
Deverills Performing Arts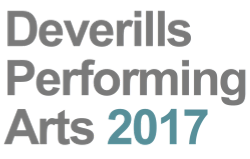 We have been enthusiastic supporters of Deverills Performing Arts, 'an inspiring mix of music and drama across the seasons' since its founding Festival in 2014. This year saw a varied line up of true talent performing to packed venues along the length of the charming Deverill Valley. Visit the Deverills website at: http://www.deverillsfestival.com
Chilmark Fete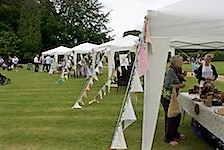 We provided signage for our local village Fete in June. This year the sun shone throughout the afternoon and as always the village community stepped in with, among other things, Maypole dancing, a Band and the obligatory Pimms tent. An archetypal picture of English summer at its best.
Chilmark Show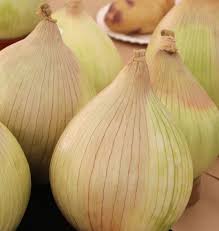 Another sunny day in Chilmark, this time in early September where the annual show took place in the Fairmead Field opposite the Black Dog Pub. We were delighted to advertise in the programme and to see a fun packed day with some serious horticultural competition. A significant donation went to Chilmark based charity Team Rubicon, the disaster relief agency. Find out more by visiting their Facebook page: http://www.facebook.com/ChilmarkVillageShow
East Knoyle Village BBQ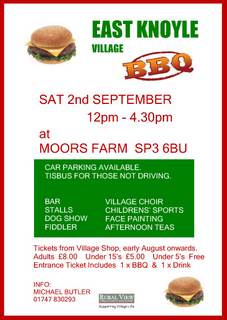 A great day was had at Moors Farm in early September where a village BBQ was the successful alternative to the Fete. Very well attended, with Tisbus ferrying revellers to the event, and we were more than happy to design and print the advertising fliers for distribution. Find out more about this event at: http://www.benofbart.org.uk/index.php/east-knoyle/199-ek-bbq-sep17
Teffont Show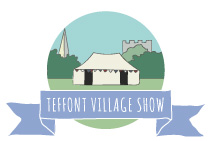 More signage was provided by Rural View for this lovely August Show, set in probably the most attractive location of all in the grounds of Teffont Manor. Here Teffont Evias and Teffont Magna combine to produce a large and memorable event every year and we were again very proud to be a part of it. Visit the village website for more information: http://www.teffont.com
Donhead St Andrew Fete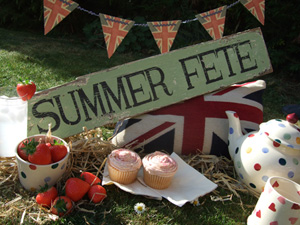 A huge annual event which we have provided advertising signage for over the last few years. As with last year this took place on August Bank Holiday and really pulled in the crowds who enjoyed an extensive array of attractions, among which was another classic and vintage car and bike show.
Middle Down Kite Festival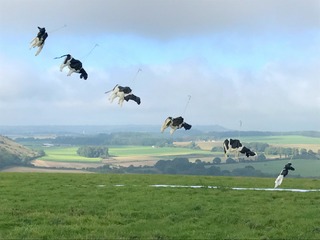 This was the first Kite Festival to be organised by the Friends of Wardour School and we were very pleased to be principle sponsors. Taking place in mid September on the chalk ridge to the south of the A30, it attracted a great turnout, despite the mixed weather, and the kites could be seen for miles around. Next year looks to be bigger and even better. Pop over to their Facebook page for more details about the event: http://www.facebook.com/middledownkitefestival
SWW Huntertrials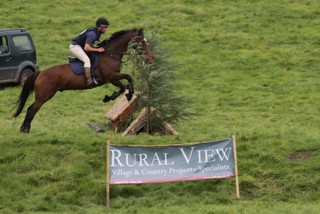 This is always a good September day out in Fonthill Estate, with numerous competitors and a mini course. Rural View again sponsored the 'thatched house' jump and we witnessed some lovely hunters being put through their paces through both sun and rain. Why not follow them on Facebook to see photos from the event and keep up to date with future events: http://www.facebook.com/fonthillhuntertrials
'Escape or Die' Illustrated Talk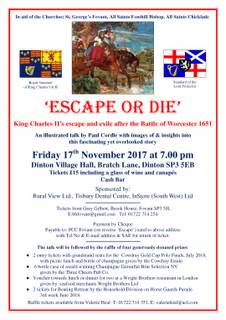 Presented by Paul Cordle in November, this was a fascinating and informative talk on the escape of the future Charles II from the clutches of the Parliamentarians after the Battle of Worcester and his fraught journey to temporary exile in France. Dinton Village Hall was packed to hear this story and we were delighted to sponsor it in aid of local village churches.
One of the prettiest villages in Wiltshire is the picturesque parish of Teffont. It is a rural idyll of two halves: Teffont Magna and Teffont Evias.
Much of the ancient parish of Teffont in Wiltshire lies on the chalk downs by that rise between the valleys the the Wylye and Nadder. Nestled below the downs at Springhead a stream emerges which runs through the village. There is an abundance of history from the area dating 846 AD encompassing the Ice Age, Bronze Age, Iron Age, Saxons, Normans, Romans up to the 19th Century. At the time of the Norman Conquest the village was divided into two being Teffont Magna and Teffont Evias.
The scenery is spectacular and walking through the area is not to be missed. The village hosts a summer fete in July every year so come along if you are passing through the area and enjoy a warm welcome from the locals.
Teffont Magna
Also known as Upper Teffont lies along the main road and along a road which leads to the downs. Several cottages, which are built of local stone and date from the 17th and 18th Century are built along the bank of the fast flowing stream with stone bridges spanning the stream to the road.
Teffont Evias
A chocolate box village, peaceful and beautiful. Take time to enjoy the walks following the stream through the village. Cottages date from the 16 Century with thatched roofs and arched leaded windows.
Teffont Churches
Teffont Magna st edward king of the saxons. church of england
The church is a very simple one dating from the 13th Century with a well worn flagstone floor. The porch shelters some interesting graffiti etched on to the door jambs and appear to be medieval ships. Hanging from a beam is the original 13th Century bell which although now cracked and not in use is thought to be one of the few in England from that period. The carved oak screen (originally a rood screen) dating from the 16th Century is one of the few which survived in Wessex during the Reformation.
teffont evias st michael and all angels church of england
It has been suggested that there probably was a church here in 1100 but records show the church was here in 1200. The church is built of local Chilmark stone (similar to that of Salisbury Cathedral). In the north east corner of the church is an impressive tomb with three stone effigies in armour. The oldest is that of Harry Ley who purchased the manor of Teffont Evias from Henry VIII in 1534 and died in 1537.
amenites in teffont
howard's house
A 1623 Dower House is now a wonderful hotel with a very pretty terrace and gardens in which you can enjoy a morning coffee, lunch or a welcome glass of wine during the summer. Elegant interiors and delicious food are served in the restaurant. The bedrooms mix old and new providing a comfortable but not overly plush or fussy accommodation. Fresh flowers, cracking fires, deep sofas and newspapers give a warm homely feel to this beautiful Grade II listed property dating from 1623.
Howard's House offer Gourmet Getaways including a 7 course tasting menu and a hamper of homemade goodies to take home with you. If romance is in the air why not stay in the Four Poster bedroom! Don't forget to bring your walking boots or wellies and enjoy the many outdoor pursuits the area has to offer.
manor farm livery teffont magna
Manor Farm offer full outsized outdoor school together with a sandbarn, hard standing areas, horse walker and a 60 x 20 metres incorporating mirrors for training mirrors and a Martin Collins activ-track surface. They also offer a wide range of livery services too which range from full to holiday.
Zoe Gregory is the on site yard manager who has previously worked for an international gold medal eventer as well as competing herself in all disciplines. She has evented up to intermediate level and advanced level dressage.
property for sale or rent in teffont
Are you looking to move to the Teffont Area. With its pretty stone cottages and thatched roofs, this is a picture perfect place to buy a rural property. If you are thinking of selling your house in Teffont or looking for a property for sale or rent, we can help.