The idea of selling your current property can be a daunting one whether it's the first time you have done so, it's been many years since you last moved or even if it is something you have some experience at. HM Government has produced a sensible 'How to Sell' guide with some useful information on how to go about putting your home on the market and the sales process.
It sets out the steps involved in anticipation of putting a property on the market including –
Understanding your finances
Preparing the necessary paperwork
Anti-money laundering checks
Getting your home 'sale ready'
Selling a leasehold property
Valuations & price
Specialist situations such as selling a rented property, probate sales, retirement properties and power of attorney sales
The guide then goes on to advise how to choose an estate agent and what factors you should consider. Similarly, there is also a paragraph about instructing a legal professional who will carry out the conveyancing work for you.
There's a section on the marketing of your property and how to show it, choosing a buyer, accepting an offer and what to do if offers are not forthcoming. Once a sale is agreed, the guide offers advice on dealing with enquiries, further negotiations, dealing with problems such as chain issues and then getting to an exchange of contracts.
The final part of the sale process includes choosing a removal company, preparing for the move between exchange and completion, what happens on the moving day itself and things to organise post move.
The guide also explains how to deal with any complaints, lists organisations that provide additional help and a useful glossary of property and conveyancing related terms.
Click on the link How to sell a home to download a copy of the guide
---
The question regularly asked by prospective house sellers is whether it is a good idea to market one's home over the winter months or is best to wait until spring?
Traditionally the spring/early summer has been regarded as the prime selling season but in recent years the peaks and troughs between the usual ebb and flow of activity in the housing sector over the course of the year have been much shallower. Indeed, it could be said that that the old rules no longer apply in that over the last few years there have been seasons when the market is normally busy which have turned out to be quiet and other times when it is usually quiet but have actually been busy. In 2016 for example, our most productive trading period by far was the last quarter of the year, i.e. autumn/winter.
The unsettling effect of the current febrile political atmosphere surrounding Brexit is likely to rumble on for some time yet and the market in 2019 is likely to be as uncertain as it has been in 2018. Despite predictions at the start of the year and contrary to what has been happening in the London and Home Counties, prices in the South Wiltshire/North Dorset area have remained firm.
This is partly explained by the lack of properties on the market locally coupled with demand remaining healthy and this has helped to shore up prices. Other factors are that people still need to move despite what is happening in the World and also this region is increasingly regarded as an attractive place to live.
It could be argued that with the political and economic situation only likely to become even more chaotic it is better to sell now rather than later. Furthermore, with fewer properties on the market during the winter there are fewer competitors than there might be in the spring. It is also worth bearing in mind that the Christmas holiday season is when the property portals record their highest levels of search activity.
Many years of experience has taught me that the quality of buyers house hunting over the winter months is as good if not better than at other times. After all, few would want to venture out visiting properties on a cold day in December or January unless they are genuinely serious about finding a new home.
A concern for some about going on the market at this time of the year is that their gardens do not look at their best but on a crisp sunny winter's day good, flattering photographs can still be taken. Indeed, when it comes to viewings, some houses can actually look at their homeliest with cosy fires going and subtle lighting on.
Whereas the time of year was once a key deciding factor when to put their homes on the market, nowadays this is less important. Future trading conditions are likely to be an unknown quantity for some time to come and so my advice to prospective vendor clients is to take the plunge when it suits them and their onward plans but without the benefit of a crystal ball, it may turn out to be better to do so sooner rather than later.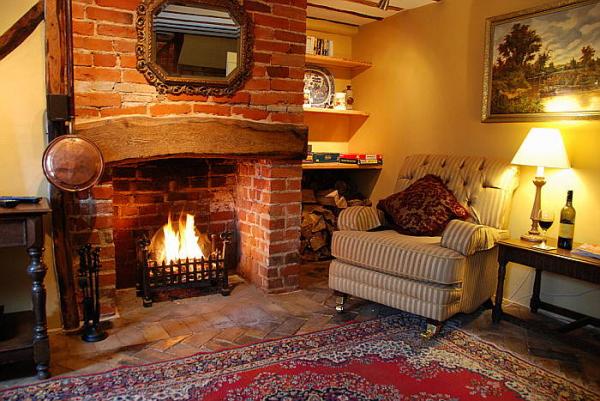 MM
Rural View
Nov 2018
Rural View are delighted that the Housing Secretary Sajid Javid has announced plans to introduce new measures to speed up the house selling/buying process and professionalise the estate agent sector, driving up standards and bringing an end to 'rogue managing agents'. This is something that is more than overdue and we, together with the rest of the property industry, have been calling for for many years.
With over one million homes bought and sold in England each year, delays and complications during the process cause unnecessary financial and emotional stress to customers. This uncertainty can lead to delayed decisions and contributes to over one quarter of house sales falling through annually.
According to government research, more than 6 out of 10 buyers and sellers have experienced stress, and around a quarter of sellers said they would use a different estate agent if they were to go through the process again.
Estate agents will now be required to hold a professional qualification and to be transparent about the fees they receive for referring clients to solicitors, surveyors and mortgage brokers. Other measures to make the system easier, faster and more transparent include:
– encouraging the use of voluntary reservation agreements to help prevent sales falling through and crack down on gazumping
– setting a timeline for local authority searches so buyers get the information they need within 10 days
– requiring managing agents and freeholders to provide up-to-date lease information for a set fee and to an agreed timetable which will end the current situation where leaseholders are at the mercy of freeholders and their agents
– strengthening the National Trading Standards Estate Agency Team so they can carry out more enforcement activity which includes banning agents
Housing Secretary Sajid Javid said:
– "Buying a home is one of the biggest and most important purchases someone will make in their life. But for far too long buyers and sellers have been trapped in a stressful system full of delays and uncertainty."
-"So we're going to put the consumers back in the driving seat. We will require estate agents to hold a qualification so that people are no longer at risk from a minority of 'rogue agents' and can trust the process when buying or selling their home."
Mark Hayward, Chief Executive, NAEA Propertymark said:
-"We particularly welcome the commitment to further regulation – we have long argued that estate agents should be recognised as professionals, this is an important step towards achieving this and we look forward to working with the government."
There are approximately 20,000 estate agent businesses across the country, and currently, anyone can practice as an estate agent. The changes set out will professionalise the sector, creating a more trustworthy and reliable industry who will be better held to account.
Guides on 'How to Buy' and 'How to Sell' will be developed and published to ensure customers are better informed of the process and know what questions they should be asking. The government will work with consumer groups and industry to develop a consistent set of performance metrics for conveyancers, so consumers can make a more informed choice.
To bring the profession into the technology era, a working group will be set up to bring industry and partners, such as HM Land Registry, together to look at developing innovative digital solutions to speed up the home buying and selling process.
Government will consult on how the industry can be brought up to professional standards, like those in the same trade such as conveyancers, solicitors and surveyors.
In a recent article, I urged anyone venturing into the property market to appoint a solicitor as soon as possible and preferably before, so as to pre-empt any issues and ensure a speedy transaction. The same goes for property financing and this applies to both buyers and sellers.
Before one starts looking to buy a new home, it is of course important to know what budget you have at your disposal. Looking at houses that are beyond your realistic reach or leaves you too stretched may lead to disappointment. Living in a splendid mansion might not be such a great idea if you end up only being able to heat one room.
Indeed, there's an argument to say that you should n't view until you have a mortgage offer agreed in principle. Having one demonstrates that you have investigated your finances and gives a prospective vendor confidence that you are able to buy their home.
On the other hand you might be pleasantly surprised to find that you have more funding available than you thought and can afford a grander home than you had anticipated.
For straight forward information on the basic principles of the mortgage process and what's involved, the different types of interest rates and repayment vehicles, as well as the costs to consider, get in touch with Rural View or click on the link for a free Consumer Guide to Mortgages.
For those sellers who are downsizing or disposing of a property altogether, what are you going to do with the surplus after the sale? Other than blowing it all in Las Vegas, thought needs to be given as to the most appropriate investments and whether this is to provide an income or capital growth. Alternatively if it is being given to family members, what's the most efficient way of doing so and will there be any tax implications?
The World of finance can be a complex place even for the most experienced and savvy borrower or investor, so a good starting point is to seek the input of a financial adviser.
The days of having a chat with your local bank manager are just about over and it is generally considered best to talk to an independent expert who has access to the whole of the mortgage, investment, pension and insurance markets so as to be able to source the most attractive and appropriate financial products for your own personal circumstances.
I stress the word independent above. You might have been with the same building society, insurer etc. for years but are they are offering you the best rates or terms that are right for you? Is your current advisor tied to just one or a limited number of providers?
Rather like choosing the right solicitor or estate agent, it is important that your financial adviser instils in you a feeling of confidence and trust. When selecting one, check the range of financial products they deal with, their experience, independence and what fees you will have to pay.
Let us know if you would like the names of any local independent financial advisers or mortgage consultants.
Why you should considering selling your house now
It's pretty cold out there and we just seem to be assaulted by one storm after the next. Isn't that just one reason not to even think about moving house?
Of course we can come up with all sorts of excuses to batten down the hatches and stay put, but the reality is that if you have to move house, for whatever reason, then you should seriously consider selling now.
Here are some very good reasons why now is a good time to sell your house:
Lack of competition in the local housing market
There is currently the lowest number of available properties for many, many years. This means that there is far less competition to attract buyers than there would be in the spring, when we are likely to see more houses hitting the market. It also means that buyers may more readily pay what you are looking to achieve.
Buyers want to move to this area
We have plenty of frustrated buyers who would dearly love to hear about fresh properties in Wiltshire and Dorset. Not only is this a popular part of the world to move to, but there are also those who want to stay in the area and get on with the next stage in their lives. Whether they are upsizing or downsizing, moving from town into country or vice versa, we are in touch with them.
Speed – save time
You can beat the rush and save valuable time. In the summer months solicitors, surveyors and local authorities are often overloaded with work. The quieter months allow them to concentrate on less workload, however, and transactions can smooth through just that bit more quickly. For instance the last couple of summers saw Wiltshire local authority searches take up to a couple of months to be returned which often proved critical. At the moment this is more likely to be one or two weeks.
Timing
Putting your property on the market now should enable a move within the next three or four months which means that you will have the majority of the summer to enjoy getting to know your new home. It is a much more pleasant time to physically move, you will have the longer days and better weather (we hope!) to concentrate on any home improvements, and plenty of time to arrange schools for September.
Presentation
Your house can look as good now as it might in the summer months. Photographers are very clever beings and if you use a professional, as we do, then the best aspects of your property can be relayed with skill. True, they can't conjure up green leafed trees and bounteous borders, but they can really help to sell an attractive lifestyle, which actually is what it is all about.